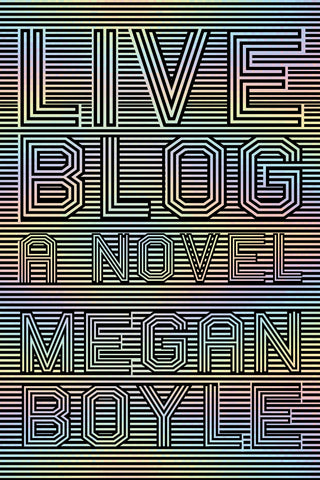 In 2013, Megan Boyle was unhappy with the life she was living and wanted to document it on the internet for an audience. Her hope was that if she documented each thought and action on the internet, then she would begin to behave in a manner more appropriate to the life she wanted to live. She needed a judge and a jury to see her crimes and non-crimes, her actions and thoughts, and her life. The results are an illuminating text of great length with poetic insight on every page. It is a reading experience that leaves a little bit of Megan Boyle inside of you long after you have finished reading it. This is akin to Karl Ove Knausgard's My Struggle and David Foster Wallace's Infinite Jest, yet totally different and new—and it is a book of daring length. Drugs, love, home, parents, friends, life, death, work, and the internet. LIVEBLOG is an historical text, extremely unique and shockingly human.
Limited quantity of autographed copies available of the First Edition
 "Megan Boyle has written the Bible for the 21st century. Like the other Bible, it contains just about everything— love, fights, failures, insecurities, moms and dads, strange observations, hermeticism, and meaning. LIVEBLOG is a painfully honest and raw record of a person's life, filtered through a keyboard and not much else."

—JULIET ESCORIA, BLACK CLOUD


"Pushing confessional writing to its limits, LIVEBLOG forces everyone to be aware of their roles, in relation to each other. I am the watcher and Megan is the watched and between us is a distance. It is akin to Marina Abramović in the MoMA, and Amanda Bynes' twitter. LIVEBLOG is life on display. LIVEBLOG is a commitment. It is the final frontier. After this, we must find something else. Or not."

—GABBY BESS, BROADLY


"I've said it before and I'll say it again: Megan Boyle is a genius. Long an online legend and a mythological beast, LIVEBLOG is a masterpiece. It is going to change things in this boring ass world of books."

—SCOTT McCLANAHAN, THE SARAH BOOK
Related Products
---