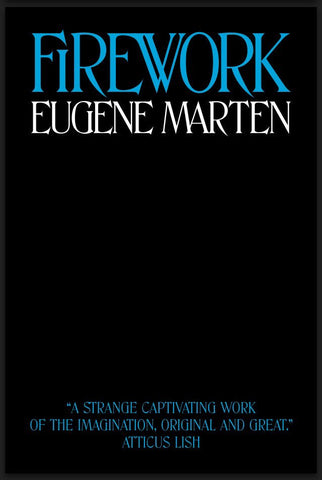 Gordon Lish on Firework:
Jelonnek, blue-collar Midwesterner, trapped in a life he is almost sure he wants to escape. Driven by "a great thirst and a great fear of what he thirsted for," he makes the first real choice of his life when a simple errand to a convenience store escalates into a terrifying encounter.
He finds himself on a cross-country odyssey with a woman he barely knows and her young daughter, in search of escape and a second act. They find shelter and a safe distance at the edge of the country and community, only to be besieged by threats from the outside and, finally, from within. A descent into paranoia, nascent violence and sexuality ensues, culminating in a one-man Armageddon and an aftermath as hopeful as it is horrifying.
Set in a volatile, early-90s landscape of apocalyptic race riots and ethnic cleansing, Firework confronts its subject with an unblinking candor all too rare in contemporary American fiction, pushing the boundaries of political correctness to speak even more eloquently to our current historical moment.
 "An explosive road novel." - Vanity Fair
"There is nothing quite like the controlled burn of Eugene Marten's prose." - Sam Lipsyte
"Firework is about the gorgeous plasticity of the American language. It's about motiveless malevolence and the human want to flee. It's about Jelonnek, and there isn't any figuring Jelonnek. He's a prisoner and a security guard, a good Samaritan and a creep. Jelonnek will never leave you. Lucky you, lucky us, to have his wild tale in our hands." - Noy Holland
Related Products
---