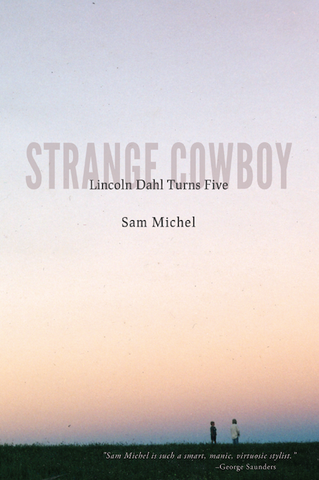 Lincoln Dahl, a family man profoundly situated in his beloved chair and in the distant privacy of his own thoughts, has been tasked by his wife with the telling of the story of his fifth birthday party. His son, Lincoln learns, is soon to be five, and it is Lincoln's wife's belief that the story of his fifth birthday party might begin to bridge the rapidly growing divide she sees between the father and the son, Lincoln Jr.
Lincoln Sr., a self-described "integrated man in a disintegrating household," is convinced no good can come from such a story.
Through the simple search for a dog and the eventual, fitful telling of one man's fifth birthday party, STRANGE COWBOY presents the drama of a father's death, a mother's sickness, the loss of the family ranch, the miracle of birth. STRANGE COWBOY is as well a love story, recounting a nostalgic love of place, early days of romance, the anxious hope attending the beginnings of domestic life.
Part comedy, part tragedy, STRANGE COWBOY is a meditation on memory, language, self-knowledge, and transcendence. Laugh, weep, think, wonder: these are the invitations to life wrought in the pages of STRANGE COWBOY.
"Sam Michel is such a smart, manic, virtuosic stylist . . . the kind of deep insights that make you suddenly and newly appreciative of the world around you."
-George Saunders
Related Products
---